The Gallus Labelmaster is redefining the conventional label printing. Gallus Labelmaster offers less complexity, a unique and perfect price-performance-ratio with the well-known Gallus quality and delivers the highest cost-effectiveness in the label printing industry.
You can now plan the future by harnessing the revolutionary flexibility of the Gallus Labelmaster. From the economical basic model to the fully equipped version, the possibilities are endless for configuring your label press to meet the needs of your business model, while benefiting from unbeatable value for money and the impressive quality for which Gallus is renowned.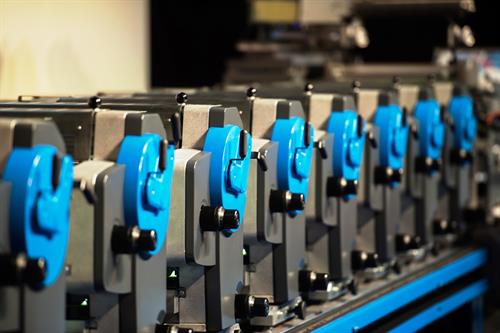 Straightforward and reliable – the flexo printing units with best practice operability.
Tailor-made for any business model.
The unique modularity of the Gallus Labelmaster meets all popular needs on the market, both now and in the future – from commodity labels to sophisticated, high-finish products. Depending on the model line, modules can be freely selected and configured, thus enabling the press to be customised to suit any requirements.
Users can choose from a total of three model lines
• Gallus Labelmaster
The basic version represents outstanding price-performance ratio.
• Gallus Labelmaster Plus
The Plus version offers extended features and the option of combining it with the Advanced modules.
• Gallus Labelmaster Advanced
Process flexibility in any position and a high level of automation ensure exceptional flexibility.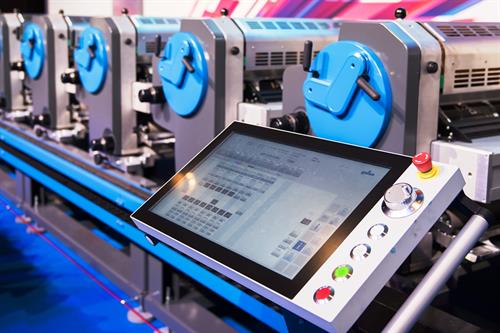 A highly intuitive operating philosophy and automated presetting functions are supporting the operator
Easy in use – spectacular performance
While the Gallus Labelmaster features extensive modules, delivering a high level of flexibility, it nonetheless boasts intuitive and straightforward operation with automated presetting functions. All product lines are thus extremely easy to get to grips with. There is a clear focus on simplicity, speed and reliability – from quick and easy changes of the lightweight aluminium printing cylinders to fully integrated operation, whether it's via the user-friendly HMI touch panel or directly on the printing unit. At Gallus, we call this "best-spot interaction".
The resulting benefits
• Intuitive operating philosophy
• Easy to get to grips with
• Short setup times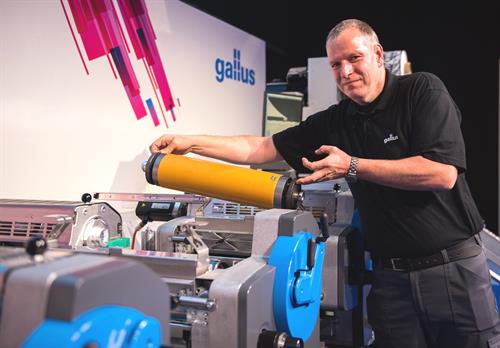 Exceptionally short setup times and super-fast job changes thanks to the gearless light-weight printing cylinders.
Ultra fast and ultra precise
The Gallus Labelmaster doesn't just impress with its flexibility but also thanks to its performance in production. This new machine platform handles even high printing speeds of up to 200 m/min with absolute register accuracy. An optimised ink chamber ensures perfect ink transfer to anilox rollers at all times with minimal splashing and reduced foaming.
Further benefits for even greater profitability
• Fast job changes in just a few steps
• Easy changes of lightweight aluminium printing cylinders
• High printing speed
• Ink chamber optimised for high speeds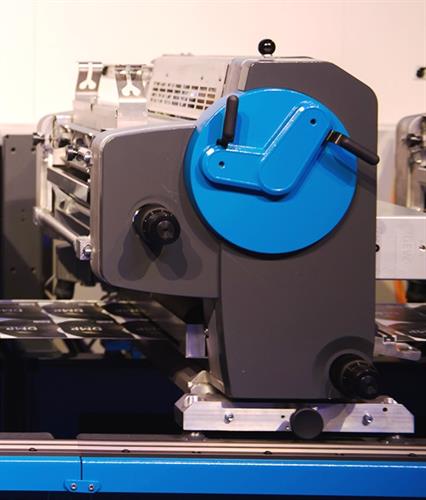 New designed flexo printing unit for reliable high printing speeds.
New printing units – precise and efficient
With the new press platform, Gallus has also developed a new locking system that enables quick, easy and accurate changes of printing units. The system positions them on the base unit with absolute precision and ensures 100% register accuracy across a wide spectrum of substrates.
The finest print quality
Whether the Gallus Labelmaster is running at a low setup speed or being accelerated to a maximum speed of up to 200 m/min, its printed image is always in register, thus underlining the new machine platform's unique quality and precision. Time-consuming corrections are not needed.
The Gallus Labelmaster – combining speed and simplicity with profitability
The Gallus Labelmaster also sets new standards in cost-effectiveness – from dramatic time savings, thanks to its ease of use and fast printing speed, to low waste and minimal material consumption. The Gallus Labelmaster impresses from the first print and makes label printing easier, faster and more profitable.
Easy
• Intuitive operation with HMI touch panel
• Can be configured to meet individual needs, depending on the model line
• Wide choice of substrates
• Lightweight and robust aluminium printing cylinders with bearer rings
Fast
• High printing speeds of up to 200 m/min
• Rapid job changes
• Short setup times
• Easy to get to grips with
Profitable
• Minimal paper waste thanks to extremely short web path (just 1.4 m)
• Precise and stable register accuracy
• Outstanding premium print quality with high-end finishing
• Optimum ink transfer to anilox rollers
• Low consumption of ink and substrates